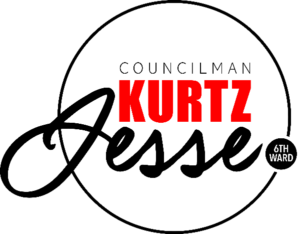 Jesse O. Kurtz was born, raised, and is now raising a family as an Atlantic City homeowner. He is a husband to Cara and the father of nine children.
Jesse is a technology professional, and has experience in the casino industry, the manufacturing sector, the tourism industry, and higher education. He has been involved with many Atlantic City organizations.
Jesse is working hard to be a visible and responsive Councilman. He is an advocate for lower taxes, cleaner streets, and safer neighborhoods. These priorities will aid in the restoration of affordability, vibrancy, transparency, and economic vitality so needed by Atlantic City and its government.
Jesse is committed to fulfilling the promise of Atlantic City. He articulates a vision of Atlantic City that draws on its past as the "Queen of Resorts" and proposes ideas that will re-position Atlantic City as the premier destination resort on the East Coast and give more opportunities for city residents to prosper.
Jesse is 2nd Chair of the Atlantic County Disability Advisory Board.
"I love living in Atlantic City."
Please join my mailing list